An update for those of you who are joining me for the first time today.
I was inspired by the one-red-paperclip trading game where a guy managed to trade a paperclip for a house via 14 intermediate trades in 12 months. His was a unique and original idea, but I thought "how about using this to raise money for charity". So I set up my own blog called 'Money For Old Rope' and I began blogging.
I have congenital heart disease and have been a member of a patients' association called
The Grown Up Congenital Heart Patients' Association
for about a year now. I joined this group as I had major open heart surgery twice when I was a child and although I don't have any major problems at the moment it is good to know what the future holds and to be able to help people who are going through what I went through. GUCH do marvelous work and I am glad that I can help them in this way.
So, on to the adventure. Within around one week of starting blogging I received an email from Angela; she has congenital heart disease and lives relatively close to me on the Wirral. She explained to me that the term 'Money For Old Rope' comes from the days when public hangings were a popular event for the local community. After the hanging the rope would be sold to the audience and would be cut up so as to get the best price for it. She proposed to trade my piece of old rope for some scissors with which I could cut the rope up and use it in future trades.
The actual trade involved me travelling to Prenton Park, the home of Tranmere Rovers Football Club and swapping a piece of the old rope to Angela for 18 pairs of craft scissors. This was a very generous start to my trading and really set me up for the next trade.
Around a week after the first trade a man named
Tim
emailed me to say he would like to trade with me. His son has congenital heart disease and reading my blog had helped him to see that there was hope that although his son was extremely ill right now there are many people out there who have survived and now lead very happy, healthy lives. He very generously offered to trade me a Sydney Olympic Official's Shirt that he had worn whilst officiating at the games. I jumped at this chance to take the trades to an international arena and accepted his offer.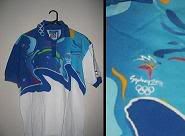 Tim had been running his own
blog
for some time about his son so that his son may have a record of what he went through as a child; I think this is an excellent idea as my curiosity often leads me to wonder exactly what is was like for me when I was a child and Tim's blog helps with that. Tim has since incorporated a similar trading game into his blog and is now going great guns and I wish him all the best of luck.
I was stuck on the Olympics shirt for some time until I emailed a company called
SoccerBid.co.uk
. They agreed to trade with me and traded my shirt for a signed photo of Peter Beardsley. I am a life-long Liverpool fan and I jumped at the uniqueness and slight hilarity of this item. Who wouldn't want a signed photo of Peter Beardsley on their mantlepiece?
I received the photo of Peter Beardsley and had no idea what to do with it. I tried collectors sites and trading sites to no avail but then I had an idea about trying the football clubs that he played for during his career. Did you know that Peter Beardsley played one game for Manchester United? I found that out while researching.
Anyway, I emailed Liverpool, Everton and Newcastle. Everton came straight back with a no ('We have no facility to trade items'), Newcastle haven't replied to this day but Liverpool sent me an email saying 'can you send us your address so we can send the itam to you'. What item? What if they send me something that is of less value? I can't do a trade without knowing what the item is.
So I phoned their PR department who said they would put a Liverpool FC shirt in the post to me that was supposed to be worn by Xabi Alonso last year in France. The significance of this is that the French Government have strict alcohol advertising laws and Liverpool are sponsered by Carlsberg. This shirt has the Carlsberg logo removed from it and Xabi Alonso's name on the back along with the Champions' League badge on the arm.
This shirt is not a replica, it was made to be worn by Xabi Alonso and as far as I believe it is absolutely unique. So a big thank you to Liverpool Football Club for putting me into this great position. As far as I'm aware they do not want the signed photo of Peter Beardsley so that is still up for grabs too.
So this is the position I'm in as you join me now, you can trade with me to help me in my quest to raise money for charity - my plan is to stop trading in 14 months time and auction whatever item I have ended with and give all the money to charity - you can spread the word about this site and help me to get a bigger audience or you can just keep coming back regularly to support me and follow my adventure. There is a link at the bottom of the page where you can bookmark this site.