A quick rundown of what has happened so far:
I started off with a single piece of old rope and a blog called 'money for old rope'. From this blog I
launched
the quest and stated that I would trade the piece of old rope for something better; almost immediately Angela on the
Wirral
came back to me to say that she would like to trade with me. Angela - like me - was born with congenital heart disease and wanted to help those less fortunate than ourselves who were severely affected by congenital heart disease.
She offered me 18 pairs of craft scissors: an unusual trade, I'm sure you'll agree; however, there is a good reason for the trade. In
ol
den times when the consequences for crimes were a little more harsh than today, hangmen used to do quite a roaring trade. At the end of their gruesome job each day they would sell the rope onto the audiences to supplement their meagre wages. Enterprising hangmen would cut the rope up into small pieces to increase the return on each rope.
Apparently
this is where the term 'money for old rope' comes from. Gruesome!
Having watched
Dave

Gorman's
Googlewhack
I decided that it would be a great idea to visit each trader. So off I went on a
huge quest
down the M62 from Manchester to
Birkenhead
(Not exactly
Frodo's
quest, more of a preamble). I made the trade with Angela (left) and was quite pleased with myself - one week in and one trade completed.
A week after this I received an email from a man named Tim in Australia. His son suffers from congenital heart disease and at that time was in quite a bad way with it. He loved the trading idea and wanted to be a part of it, he offered me a tee-shirt which he wore as a steward at the Sydney 2000
Olympic
games for the 18 pairs of craft scissors. How could I say no - two trad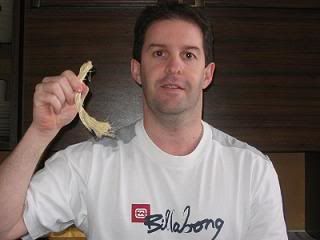 es in two weeks, I immediately wrote back to say yes - but how would I get there to make the trade. I looked at tickets to Australia and my holiday entitlement at work and decided that Dave would be very
disappointed
in me because I just would not be able to do this for each trade. Not to worry.
Tim was as good as his word and sent the shirt straight to me and he received the scissors some days later. I decided that I would cut the original piece of rope up and so Angela got duped in some way - it was actually her idea - so Tim also received a piece of the original rope. Here he is proudly displaying the rope that he received (right).
Since taking part in this trade Tim has decided to start his
own trading game
in Australia with all the proceeds going to
Heartkids
Australia. At the time of going to press he is up to a signed frame print of Dennis
Lillee
.
What do you do with
a Sydney 2000
Olympic
steward's shirt? I had no idea but I started at the
memorabilia
collectors - I know that it is not worth much but it is for charity, surely someone will want to trade. I found that someone as
Soccerbid.co.uk
; they were excellent and gave me a choice of a great many items, all of more value than the shirt itself. I chose a signed photo of
Peter Beardsley
: how could you turn that down; a signed photo of the most fantastic players (not to mention one of the most ugliest) ever to grace a football pitch.
I had a great many suggestions about where the trading could go next -
perhaps
parents would want the photo to put on the
mantelpiece
and scare their children. I chose to email the clubs that Mr Beardsley had played for - Liverpool,
Everton
and Newcastle.
Everton
wrote straight back to say that they would have a think about it - I guess they are still thinking about it as I have received no reply. I got nothing from Newcastle either but Liverpool wrote to me to say that they liked it and have put an item in the post.
I figured they must have misunderstood my email. I wasn't asking for free gifts - what if the item wasn't as good as the signed photo of Peter Beardsley. I got straight on the phone to them; I must say at this point just how amazed I was with how down to earth Liverpool
FC's
Public Relations Department are - they are very lovely people. They told me that they had liked the story so far and had decided to send me a shirt that had been made for
Xabi

Alonso
- not only that but the shirt had been made in case Liverpool played in France where
alcohol
sponsorship is banned. This made the shirt one of a kind as it had no sponsor and Alonso's name on the back.
As you can tell - I did not argue. "so should I send you the signed photo of Peter Beardsley?" I enquired. They didn't want it - If you had won 18 league titles and 5
European
cups would you want a signed photo of Peter Beardsley for your trophy room. So I have a
dilemma
- the trading hasn't really worked out - the only way I could see to continue was to have two simultaneous trades going. I still have the Peter Beardsley photo to this day if anyone is interested in trading with me.
At this point I hit somewhat of a dead-end. I tried for many months to keep the momentum going but sadly I seemed to be flogging a dead horse. I'm not really proud that I gave up but I couldn't see any other way - I spent months emailing golf clubs, garages, hotels, anyone who might be willing to trade with me. And then, out of the blue, one of the very first emails I sent months previously hit its mark.
David, from
memorabilia

investor

.com
, emailed me to ask if I would like to trade with him for a Wayne Rooney match shirt. He argued that while maybe not as unique as the Alonso shirt, it is a much more familiar
na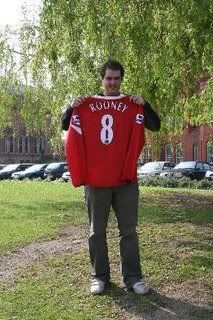 me in this country and subsequently it is worth much more - one was recently auctioned with a guide price of £1000. I pretty much bit his hand off to get hold of it.
He suggested that I try to get it signed which would increase both the value and the press coverage of the quest. This started off very brightly - I managed to get all the way through to the Football Media Manager at Manchester United who then forwarded my email to Wayne Rooney's agent Paul
Stretford
. Fantastic, I will have the signature in no time I thought. It's been two months and I'm still waiting for a reply so that didn't work out so well. It looks like I may have to carry on without the signature.
So this is where I am up to: I have a Wayne Rooney match shirt and a signed photo of Peter Beardsley. Do you want either of them? Make me an offer. I will consider all offers, the final item(s) will be auctioned off early in November - you can see the countdown timer on the right. All monies will be given to
GUCH
a charity that help people (both young and old) with congenital heart disease.
I was born with congenital heart disease and had open heart surgery twice when I was a child. This corrected the problem and I now lead a healthy, happy life. Some children are not so lucky; medical science in this area is getting better and better and the chances of
CHD
being picked up in children is much better than it used to be, however, there is still so much room for improvement.
GUCH
supports children and adults who are affected in their day to day lives with congenital heart disease, it also supports their families and friends - they are a very worthy charity and that is why I have decided to undertake this
uptrade
challenge.
Please, please take part in some way.
Thank you.