Firstly let me say how thrilled I am about the fourth trade. It is an incredible leg-up into some serious trading and I would like to thank
Angela
,
Tim
,
SoccerBid.co.uk
and
Liverpool FC
for getting me to this point. I have supported Liverpool for as long as I can remember and they have made me very proud to call myself a Liverpool fan at every point in my life so far, from me being a mascot at the age of 8, winning the European Cup two years ago, beating Chelsea whenever it matters and now this trade.
I got a couple of points wrong in my blog yesterday. I had littraly just got off the phone with LFC's PR department when I announced that I had news of a trade and the later blog was performed quite drunkenly. I received the shirt yesterday morning less then 24 hours after I had spoken to them on the phone and it arrived with a letter addressed to me (I have removed my address from the picture) which stated the following:
Dear Sir/Madam
Xabi Alonso yellow away shirt
This letter serves as confirmation that the above shirt supplied to Mr P Youngson is one which has been allocated to Xabi Alonso during the Champions League Competition season 2005/2006.
You will notice the Club sponsor's name 'Carlsberg' has been omitted due to the French Governments ban on advertising alcoholic products.
This feature makes this shirt quite unique and as such a much sought after item.
Your faithfully,
Public Relations.
As you can see, I did get a couple of details wrong such as the country and the season but at the end of the day it is still a unique item and will be worth a lot to someone out there. On the phone the PR department as LFC told me that the shirt had been valued at £300.
Liverpool do not have football shirts made without their sponsor's logo unless they absolutely have to. I must also point out that this is not a replica shirt; this was made to be worn by a Liverpool player in a competitive European match, it even has the Champion's League badge on the arm. As far as I can tell this shirt is absolutely unique, and a great item to own. I am just happy that it has been in my possession for even a short time and I am willing to let it go in order to help the charity of my choice.
So for those of you who don't follow football in the English Premiership: "Who is Xabi Alonso?" I have taken the following from Wikipedia, my favourite place to steal content from.
Xabier Alonso Olano, commonly known as Xabi Alonso (born 25 November 1981), is a Spanish (Basque) footballer who currently plays his club football at Liverpool F.C. in England. He wears the number 14 shirt at Liverpool and is a midfielder.
He was signed by Rafael Benítez, the then newly appointed manager of Liverpool, from Real Sociedad for a fee of £10.5m. Alonso is considered by many to be one of the best midfielders in European football and has played for Spain at Euro 2004 and the 2006 World Cup.
Alonso is renowned throughout Europe for his exceptional passing ability and technique.
Alonso came through the youth ranks at Real Sociedad and made his debut for the San Sebastian outfit in the 1999–00 season. His first match was against Logroñes on 1 December 1999 in a Copa del Rey game. He made 14 further appearances that season.
The following season, in 2000–01, Alonso spent the first part of the campaign on loan at SD Eibar before returning to Real Sociedad later that season to break into the first team.
He would come to prominence as a key performer in Real Sociedad's second-place La Liga finish (behind Real Madrid) in the 2002–03 footballing season. He scored 3 goals in 33 games.
Alonso was called up to the Spanish national team for the first time in 2003 and made his debut on April 30, 2003 at the age of 21 in a 4-0 friendly win over Ecuador.
Alonso arrived at Liverpool from Real Sociedad in August 2004. He made his Premiership debut for the Merseysiders against Bolton Wanderers at The Reebok Stadium on 29 August 2004, a game that Liverpool lost 1-0. His first goal for Liverpool came from a free kick against Fulham on 16 October 2004. Liverpool were losing 2-0 at half-time, but Alonso's arrival as a substitute inspired a revival and an eventual 4-2 win.
Although a newcomer to the English league, Alonso has impressed with his vision and an exceptional range of passing. After an initial settling-in period, he established himself as one of the mainstays of Liverpool's midfield. He has become a permanent fixture of Benitez's sides and has endeared many fans with his long-range passing ability and deft touches to open opposition teams up. These, coupled with his steady composure and the ability to shoot with confidence, qualify him as one of the best in Europe to play in the central midfield role.
After breaking his ankle following a tackle from Frank Lampard in Liverpool's 1-0 defeat to Chelsea on New Year's Day 2005, Alonso was ruled out of action for more than three months. He made his return earlier than expected in the second leg of the Champions League quarter final against Juventus. In the absence of skipper Steven Gerrard through injury, Alonso played for all 90 minutes as Liverpool gained an improbable 0-0 draw in Italy to defeat the eventual Italian Champions on aggregate. Gerrard would later repay the favour to Alonso in the very next round, when Alonso was suspended from the second leg of the semi-final against Chelsea. Gerrard steered Liverpool to a 1-0 win with the help of a Luis Garcia goal, putting Liverpool in the final against A.C. Milan.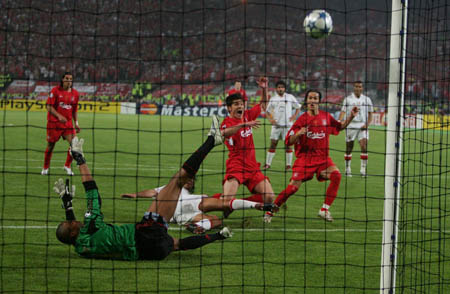 In the Champions League final, Alonso played a crucial role as Liverpool completed an incredible comeback from 3-0 down at half-time to level the scores at 3-3. At 3-2, Liverpool were awarded a penalty, which Alonso stepped up to take. While Dida, Milan's Brazilian acclaimed goalkeeper, managed to save the penalty, Alonso fired the rebound into the roof of the net making it 3-3. Liverpool went on to win the European Cup on penalties, capping off a very successful first year for Xabi Alonso in England.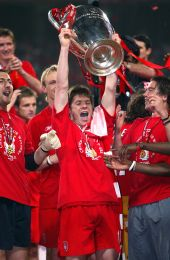 On 7 January 2006, in a thrilling F.A. Cup third round tie against Luton Town, Alonso assisted Liverpool to a 5-3 comeback victory after being down 3-1 early in the second half, by scoring two amazing goals: one from 40 yards, and the other from well inside his own half (65 yards from goal) as the opposition keeper had gone to the Liverpool penalty area to attack a corner kick. Astonishingly, it later transpired that a Liverpool fan had earlier placed a £200 bet on Alonso scoring from within his own half at some point in the 2005–06 season, and won £25,000 as a result.
During a 3-1 victory over Portsmouth on 7 May 2006, Alonso suffered an injury to his ankle in the 41st minute, which put his participation in the FA Cup Final in doubt. He recovered sufficiently to start the game however, and despite having to be taken off during the second half, he ended the day with a winners' medal.
Alonso was named in the Spanish squad for the 2006 World Cup. He scored Spain's first World Cup 2006 goal (his first international goal) against Ukraine on 14 June 2006.
Xabi comes from a famous footballing family. His father Miguel Angel 'Periko' Alonso was a star for FC Barcelona and won two league titles with Real Sociedad. Xabi's brother, fellow midfielder Mikel Alonso, continues the family tradition at the latter club. He also has another brother named Jon who is a referee.
He is close friends with Everton F.C. player Mikel Arteta. Incidentally, Xabi Alonso and Arteta are currently neighbours on the same street in San Sebastian
He is dating his childhood sweetheart Nagore.
I am 90% sure that Liverpool do not want the Peter Beardsley photo in which case I have decided to have two trades running simultaneously. One for the Liverpool FC Alonso shirt and one for the Peter Beardsley signed photo.
Good luck bidding.